Pronunciation:
tri-SEH-ruh-tops
Meaning:
Three-horned face
Author/s:
Marsh
(
1889
)
Synonyms:
See
below
First Discovery:
Wyoming, USA
Chart Position:
50
Triceratops horridus
Triceratops
is a ceratopsian, specifically a chasmosaurine ceratopsian, and a culmination of eighty-five million years of evolution. It was the biggest of its kind and more than capable of dealing death to the carnivorous death-dealers. But it reigned for a mere million or so years before being wiped out during the K-Pg extinction, which just goes to show; size and strength count for nothing when a six-mile-wide meteorite lands in your back yard. The horsemen of the apocalypse were an unforgiving lot, even way back in the Late Cretaceous.
The first specimen now attributed to
Triceratops
was discovered in Denver, Colorado, in 1887 by local school teacher and geologist George Cannon, and forwarded to O.C. Marsh who assumed its remains—a couple of horn cores attached to a lump of skull roof—belonged to a huge Pliocene-aged bison that he named
Bison alticornis
. To be fair, a horned dinosaur had never been discovered so Marsh had nothing to compare it to. And even the following year when he named more horn cores
Ceratops
, he thought they were spikes akin to those found on the tail of
Stegosaurus
and still believed
Bison
was, well, a huge Pliocene-aged bison. It took the 1888 discovery of a third partial skull by John Bell Hatcher in Wyoming's Laramie Formation to convince Marsh that horned dinosaurs existed, and though it was initially assigned to
Ceratops
as a second species—
Ceratops horridus
—it was bumped out by
Bison
(which was renamed
Ceratops alticornis
) and became the official name-bearing specimen of
Triceratops horridus
in 1889.
Etymology
Triceratops
is derived from the Greek "tri" (three), "ceras" (horn) and "ops" (face) because of the three horn on its face. Simples.
The
species epithet
,
horridus
, means "rough" or "rugose" and refers to the coarse texture of the bone surface.
Discovery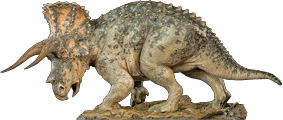 The
holotype
of
Triceratops horridus
(a skull catalogued as YPM 1820) was discovered at Buck Creek, Johnson Brothers Ranch, in the Laramie Formation of Wyoming by John Bell Hatcher in 1888.