Pronunciation:
HET-e-ro-DON-to-SOR-us
Meaning:
Different toothed lizard
Author/s:
Crompton and Charig (
1962
)
Synonyms:
None known
First Discovery:
Cape Province, South Africa
Chart Position:
166
Heterodontosaurus tucki
Coming soon...
Etymology
Heterodontosaurus
is derived from the Greek "heteros" (different), "odont" (tooth) and "sauros" lizard, in reference to its heterodont dentition — it had different kinds of teeth, for different tasks, in the same mouth. Humans are heterodont too.
The
species epithet
,
tucki
, honors Mr. G. C. Tuck, managing director of the Austin Motor Co. Ltd., who helped fund the expeditions that found its remains.
Discovery
The first fossils of
Heterodontosaurus
were discovered in the Upper Elliot Formation, on the mountain behind the trading store in Tyinindini, Transkei (Herschel) District, Cape Province, South Africa, by A.W. Crompton during a joint expedition of the South African Museum and British Museum in 1961–1962. Or so we thought. Recent research has shown that a partial skull (AMNH 24000) discovered by Robert Broom (probably in the younger Clarens Formation) sometime before 1913 actually belongs to
Heterodontosaurus
. Embedded in a small block of matrix with only a few teeth visible, it was sold to the American Museum of Natural History as part of Broom's synapsid collection in 1913 and its true identity was revealed after preparation many years later. All that remains of the
holotype
(SAM-PK-K337) is a nearly complete skull,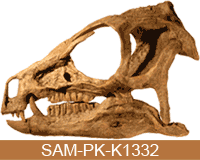 as the skeletal remains that were initially with it have since been misplaced. However, better fossils have since been discovered, including a virtually complete specimen (SAM-PK-K1332) that Crompton found in the Upper Elliot Formation on the northern slope of the Kromspruit (Krommespruit) Mountain, Voyizane (Voisana), during a joint South African Museum, Yale University, British Museum, University of London expedition to the "Red Beds" of South Africa and Lesotho in 1966-67.